If you're a regular here, you know we almost sold our house. You also know there are a lot of things I love about this house.
But, like anyone, I have a few things I hate about my house too.
The biggest thing I hate is that we have a damp basement. We used to have a wet basement until Kelby helped Jason address drainage around the outside of our house.
I hate having a damp basement because that means we can't finish it and use it as a toy room as many families do. Very little even gets stored in our basement because it's musty and gross.
The other thing I hate about my house is that, since it's a Cape Cod style home, there is very little storage in general. This, coupled with the basement's dampness, makes the situation with toys and clutter especially challenging.
But I am on a mission for a solution.
I've heard of people with Cape Cod style homes using the space behind their upstairs bedroom walls as storage by building in dressers or cabinets.
On Apartment Therapy, for example, they feature how one person built drawers and bookshelves into the unused space in their upstairs bedroom in their Cape.
And,
here
you can read about how Michael found storage for his daugher in their 1950s Cape.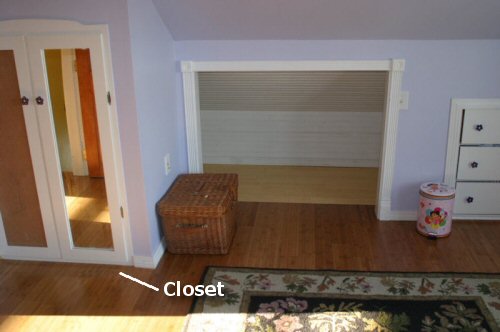 So we are hoping that we might be able to do something similar to help store Imani's toys but keep them accessible to her. Wish us luck!
If you have found storage in a Cape, please share how!
I also need suggestions on how you store toys if you don't have a finished basement. Do tell!