When we first moved into our house, there were so many areas that needed to be addressed immediately. We all slept in one bedroom because the other two were in such disrepair.
We fixed a lot of the aesthetic stuff first just so we wouldn't be embarrassed when we had friends and family over -- like removing these fish that were decoupaged on the walls.
After we'd been in our house for a while, we started addressing other areas, like crazy ceilings.
Whoever lived here before us had no idea how to sheet rock a ceiling. The seams that showed were an eyesore.
Here's Imani's bedroom ceiling, which still hasn't been fixed (and we also would love to change the light fixture but we're resisting, since we are planning to sell our house soon). See that seam running down the middle of the ceiling? It drives Jason crazy every time he's in Imani's room.
One of Jason's least favorite home improvement projects is sheetrock and spackling and when it's on the ceiling, that makes him even more miserable.
So what have we done to address these crazy, bumpy, seamy ceilings? In some cases, like our kitchen, Jason ripped down the old ceiling and started over. But another thing we've done that we've been equally happy with was to use a quick fix that gave some rooms more of a cottage feel.
We used wood panels to cover up the ceilings.
Here is our staircase ceiling. You can see the section that isn't covered isn't looking so hot.
So rather than rip down the existing sheet rock and start over, Jason went to work covering the ceiling with wood panels.
If Imani and I are busy, Jason always has company from one of his biggest fans -- Maggie. Maggie never leaves Jason's side, even if stuff is falling down from the ceiling all around her while Jason works.
After we get all of the boards and trim up, Jason paints them white, although we have friends who stained theirs and they look great that way too.
Here's Herb and Cindy's house. You can see that they installed wood throughout their home -- on their walls as well as on their ceilings.
While we were looking at houses, we saw a lot of ceilings we didn't like. Some had ceiling tiles, like what we used to have in our closet under the stairs.
Jason fixed those with the same wood panel solution and painted them white.
Some houses had textured ceilings, which I know some people love, but they just aren't our style.
And other houses just had owners who lacked sheet rocking and spackling skills..
Here's a picture I found where people covered their walls and ceilings in beadboard.
Another solution I like is covering the ceiling with tin.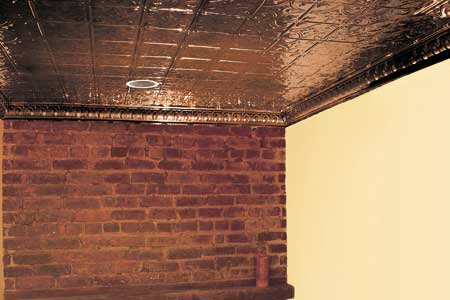 Have you looked up lately? What's the deal with your ceilings?